Dear friends,

We hope that you and your loved ones have been keeping well in body and mind.

As we settle into Phase 2 of the circuit breaker and figure out the path forward, we would like to take this opportunity to thank you for your support during the past few months. If you have been attending our online programmes, or keeping in touch with us through social media, we sincerely thank you for reaching out and enriching the literary community along the way.

This has been an enormously challenging year, when our work and daily lives have been upended by the pandemic. Yet it was also a time when the power of books and literature shone through, and the literary community around the world rallied together to support one another.
A message by SBC Chairperson, Ms Claire Chiang.
A group of 45 children's authors and illustrators in Singapore, for instance, came together to work on A Book of Hugs: Stories to Keep You Company, which will raise money for two children's charities in Singapore. Furthermore, local bookstores and publishers, as well as the National Library, have boosted their online offering of book titles so that readers can still easily order or download books to read in the comfort of their homes. We were also treated to 30 Days of Art in The Straits Times, a series of 30 works by local writers and artists who served to inspire and uplift readers during this pandemic.
Commitment to the community
It is times like these that we are reminded of the human spirit and resilience, and how important it is to come together as a community. We at the Singapore Book Council have also reflected deeply on our mission, and how as an independent charity we can remain grounded and stay true to our purpose. For over 50 years, we have not wavered from our mission of developing Singapore literature that is diverse and multicultural.

Amid all the disruption, isolation and anxiety, we believe that the written word is more essential than ever. When sharing our ideas, stories, and poetry, not only do the different literary voices nourish us, they also challenge us to think critically, inspire us to take a flight of imagination and connect us through a thread of empathy.

Over the past few months, we have quickly adapted and continued many of our programmes to support the literary community by hosting them online. These include the free webinar Digital Storytelling Tools, where teachers and parents learnt about various web-based tools to help students tell stories in creative ways. In addition, more than 100 children took part in a series of online workshops, where they picked up the craft of illustration, drawing their own comic characters and writing poetry. To support local bookstores and publishers, we also launched the Gift SingLit campaign in May to encourage the public to buy SingLit titles with a special promo code. Nearly 600 books were bought during the campaign.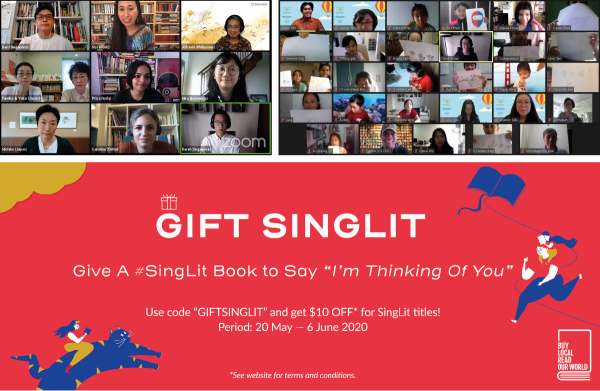 Our online programmes include (clockwise from top left): Book Illustrators' Gallery (BIG) curators' roundtable; illustration workshop for children, and the Gift SingLit campaign.
Singapore Literature Prize 2020
Even though our programmes, donations and funding have been adversely impacted by the pandemic, we remain resolute in our mission to support the community. We decided to forge ahead with our key programme the Singapore Literature Prize (SLP) this year, as we feel it is vital to recognise and celebrate the voices of our writers, as well as their contributions and achievements.

However, in the face of the ongoing pandemic and tough economic climate, we had to make two significant changes in order for SLP to go ahead. First, we are moving the awards ceremony online, making it our first virtual ceremony. It will be streamed on our Facebook and YouTube pages on 27 August 2020, Thursday at 8pm. The greater adjustment is to the awards themselves, which affects all 12 categories. The prize money for SLP 2020 will be reduced from $10,000 to $3,000 for the top prize winner in all the categories. It was a difficult decision to make, but we felt that reducing the size of the awards was a necessary step to take instead of cancelling the event this year.

Despite these changes, the value and standing of the Singapore Literature Prize is in no way diminished. We continue to be dedicated to showcasing and elevating the works of Singapore's writers, who have gifted us with their talents and words, and deserve our recognition on a national level.

The SLP 2020 shortlist will be announced this coming week, and we invite you this August to join us at the SLP Awards Ceremony to celebrate the best of Singapore literature.

Times of crisis define who we are. We can choose to retreat in defeat, or to persevere and emerge from it stronger. My team and I at SBC are determined to use this period as an inflection point to chart a new path forward and empower the literary community for now and the future. We invite you to join us on this journey and support our efforts. I would also love to hear from you on how SBC can better support the community.

We wish you good health and happy reading, and we look forward to seeing you virtually at the SLP 2020 Awards Ceremony in August.

Sincerely,
William Phuan
Executive Director