Scholastic Asian Book Award
The Scholastic Asian Book Award (SABA) is a joint initiative between Singapore Book Council (SBC) and Scholastic Asia. To promote Asian experiences and expression in creative and innovative forms, this award recognises writers of Asian origin whose manuscripts have the potential to share uniquely Asian experiences of life, spirit, and thinking with the rest of the world.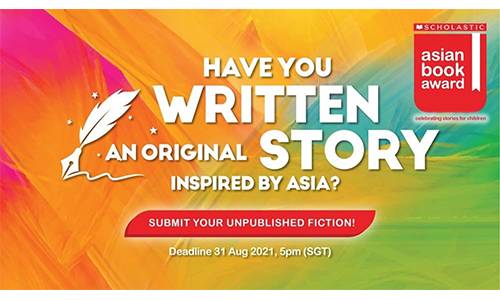 ANNOUNCEMENT:
The call for submission for SABA is now open to 31 August 2021, 5.00pm (SGT).
Objectives:
To recognise excellence in fiction in Asian stories for children
To showcase the diversity of literary talent within Asian
To encourage and inspire more Asian-themed books and stories
For more information, please visit www.scholasticbookaward.asia.
WINNERS & SHORTLISTS
2018 WINNER
Winner
Wing of the Locust by Joel Donato Ching Jacob (Philippines)
1st Runner-Up
Red Eyes by Varsha Seshan (India)
2nd Runner-Up
Blue2 by Yuet Lan Dora Tsang (Hong Kong SAR)
2018 Shortlist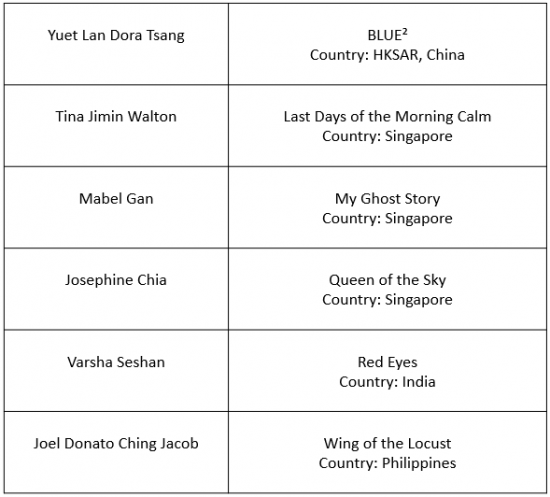 2016
Winner
Codex: The Lost Treasure of the Indus by Aditi Krishnakumar (India)
1st Runner-Up
Chasing Freedom by Tina Cho (South Korea)
2nd Runner-Up
Island Girl by Ho Lee Ling, Stephanie (Singapore)
Shortlist
The Budding Traveller by Golda Mowe (Malaysia)
Dragonflies, Jigsaws and a Rainbow by Varsha Seshan (India)
2014
Winner
What Things Mean by Sophia Lee (Philippines)
1st Runner-Up
Sula's Voyage by Catherine Torres (Philippines)
2nd Runner-Up
Robin and the Case of the Summer Camp Kidnapping by Vivek Bhanot (India)
Shortlist
Dragonhearted: The Fine Spell of Words Alone by Thia Shi Min (Singapore)
Ergo Sum by Aditi Krishnakumar (India)
2012
Winner
Bungee Cord Hair by Ching Yeung Russell (US)
Runner up
The Locked Up Boy by Pauline Loh Tuan Lee (Singapore)
2nd Runner up
Hidden in Plain Sight by Ang Su-Lin (Singapore)
3rd Runner up
Double Take by Katherine Seow (Singapore)
2011
Winner
Book Uncle and Me by Uma Krishnaswami
Runner up
The Girl Mechanic of Wanzhou by Marjorie Sayer
2nd Runner up
The Mudskipper by Ovidia Yu Tsin-Yuen
Shortlisted
Kingfisher by Chee Siew Hoong
The Last Hero of Orion by Farooq Jamil Alvi
Kam's Schoolfish Rolls by Sue Flotow
The Kumquat Code by Yat-Yee Chong
The Zone Kate by Whitehead
These Enchanted Woods by Margaret Lim Hui Lian
Backyard Banzai Chicken Warriors by Kimi Takazawa