Ready for KidLit!
Calling all kidlit lovers! Get ready for a day filled with fun storytelling, writing and drawing activities! Join some of our beloved children's book writers and illustrators online as they show us how to do dramatised storytelling, write wacky poems, learn about emotions and out-draw each other in an epic illustrators' battle! Light up your day with all these free activities as kidlit comes alive!
Ready for KidLit! is supported by the National Arts Council Singapore.
Watch the sessions on our SBC Facebook and YouTube channels!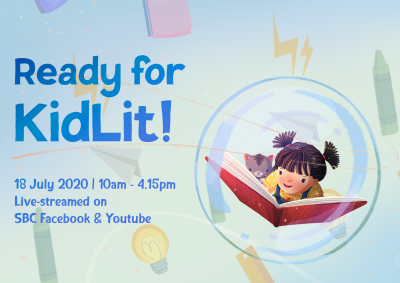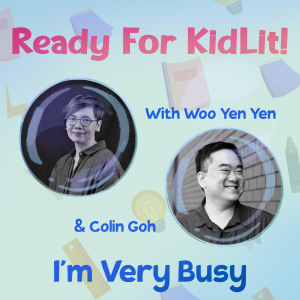 I'm Very Busy
10.00am – 10.45am | For ages 4 - 8
What does your little one think Baozi is doing when he says he's busy? Draw along with creators Colin and Yen Yen as they bring silly suggestions from kids to life. Also, enjoy a dramatic reading of I'm Very Busy from the hilarious Little Dim Sum Warriors bilingual picture book series.
Bonus: Join in the fun and make your own Little Dim Sum Warriors paper puppets with these templates here!

ABOUT THE PRESENTERS:
Colin Goh is a writer/cartoonist whose work includes the international bestseller Search Inside Yourself. With wife Woo Yen Yen, he created Dim Sum Warriors (a critically-acclaimed graphic novel series published by Scholastic, which was also adapted into a major stage musical in China) and Little Dim Sum Warriors, a spin-off bilingual storybook-and-app series for young readers. Visit www.dimsumwarriors.com for free previews and more details.
Woo Yen Yen is CEO of Yumcha Studios, an edtech company focusing on cultural confidence and global competence for kids through comics and apps. She is an education expert with a doctorate from Teachers College, Columbia University, specializing in curriculum design. With husband Colin Goh, she recently published Little Dim Sum Warriors, a bilingual book and app series for young readers.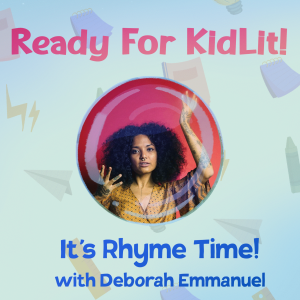 It's Rhyme Time!
11.15am – 12.00pm | For ages 7 - 10
Let loose and run wild with your creativity! Step into the world of funny and nonsensical rhymes and learn how to create simple limericks in this fun and engaging session.
ABOUT THE PRESENTER:
Deborah Emmanuel is a Singaporean poet, performer and professional speaker. She has written 3 books, 2 one-woman shows and countless poems. When not writing, Deborah tours internationally, makes theatre, plays music, and meditates a lot.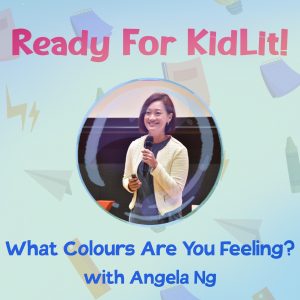 What Colours Are You Feeling?
1.00pm – 1.45pm | For ages 5 and above
Our emotions are colourful like a rainbow but we often struggle to label or describe our emotions properly. Let's have fun creating colourful and fun emoji crafts that helps us express our emotions and use it to share an emotive story.
ABOUT THE PRESENTER:
Angela Ng is a Lecturer on Design Thinking. She believes emotions drives experiencesand is at the heart of all experiential designs. As a Positive Psychology practitioner, her study onemotions further extended her work into design for well-being. She is the author of the book, What Colours Are You Feeling? and TEDx Singapore 2019 Speaker on Design Think To Happiness.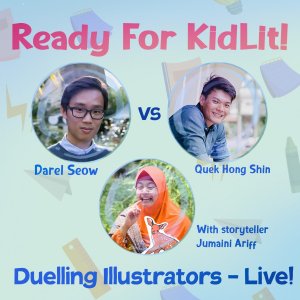 Duelling Illustrators – Live!
2.15pm – 3.00pm | For ages 4 and above
Watch two illustrators engage in battle as each attempts to outdraw the other. While a story is read out live, the artists will each draw out their vision of how the scenes from the story would look like.

The story featured in this session is based on the book, The Book That Was Handed Down, written by Yixian Quek, illustrated by Grace Duan Ying and published by ST Press.
ABOUT THE PRESENTERS:
Darel Seow is a visual storyteller who illustrates the tales of the natural world through his unique brand of wry wit and whimsy. He believes in the draw of storytelling as a means of engagement, creating experiences that simultaneously excite and educate. Particularly interested in museums and culture, he has worked with art, cultural and educational institutions to encourage learning through the power of imagination and play.
Jumaini Ariff is a published author and well-known for her storytelling persona; 'Nek Selampit'. She heads 'Storyscribblers' which provides quality literary workshops for students and preschool educators in 2017, Jumaini became the first storyteller to be appointed as a Language Ambassador, by the Malay Language Council Singapore.
Quek Hong Shin is a freelance illustrator who has written and illustrated several picture books including The Amazing Sarong, The Incredible Basket and Universe of Feelings. The Incredible Basket was the winner of Best Children's Book at the 2019 Singapore Book Awards.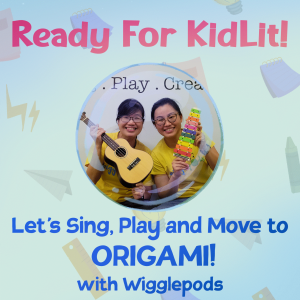 Let's Sing, Play and Move to ORIGAMI with Wigglepods!
3.30pm – 4.15pm | For ages 3 - 7
Come join us for a creative music and movement adventure with Wigglepods. We will SING,MOVE and PLAY in this fun-filled session inspired by the book titled Benji, Yumi, Origami! written by Emily Lim-Leh and illustrated by Kazumi Wilds.
ABOUT THE PRESENTERS:
Lavina Chong has been an Early Childhood Educator for the past 30 years, as a classroom teacher, teacher trainer, professional staff development instructor, consultant, curriculum specialist, conference speaker and a University professor. She is the Managing Director of Wigglepods Pte Ltd, a creative music movement company that specialises in the arts for children 0-12 years.
Shalene Phang is an educator with Wigglepods and has been in the early childhood field for 9 years. She is well-loved by children, and loves singing and playing the ukulele in her spare time.