By Hidayah Iskandar
Diploma in Creative Writing for TV and New Media
Singapore Polytechnic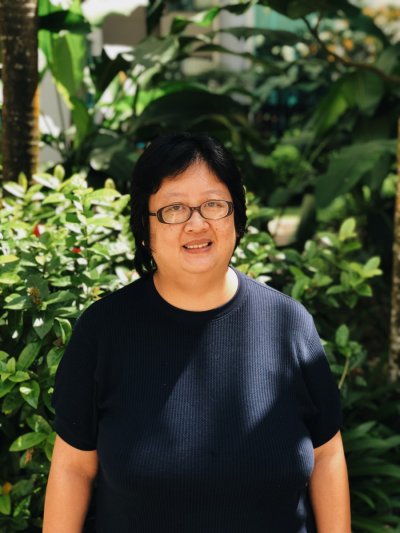 Tan Hwee Hwee's novels have brought her accolades but fiction writing is on hold for now because she says the process make her feel so lonely. (Photo credit: Hidayah Iskandar)
Novelist, journalist, editor, copywriter. As someone who describes herself as a "voice-driven" writer, 44-year-old Tan Hwee Hwee has honed her craft through several genres. But finding her true voice has not been an easy path for Tan.
She released her first book at the tender age of 22. What started off as a compilation of short stories manifested itself into her debut novel. Foreign Bodies received glowing reviews. Her second book was published four years later to similar success. Mammon Inc won her the prestigious Singapore Literature Prize in 2004. Just a year before that, she'd been a recipient of the National Arts Council's Young Artist Award.
Despite being feted by the local literary scene, Tan's take on Singapore authors hasn't always been positive. In 2001, she made a comment about how "pathetic" local writers were. Tan was disappointed how some who had not published anything in ten years still considered themselves writers. Today though Tan's views have become mellower.
"Over the past years, there have been a lot of Singaporean writers who have published overseas," she says.
Tan says she now tries to provide a support system for fellow Singapore authors. She gives the example of connecting Lau Siew Mei, who she describes as one of the best writers she has ever known, with Epigram to publish her second novel.
Finding Her Place
Tan's own growth as a writer was shaped abroad. From Australia to England to the United States, she took the experiences she gathered travelling and living in one continent to another and told the stories of the places and people she met in her books.
The diverse spread of people and culture in New York, in particular, brought a sense of identity and acceptance for Tan and she finally felt like she fit in. She says she had grown up a misfit in Singapore. She couldn't conform to the formalities here and she was always judged by her peers for it. Singapore, Tan says, "lacked inspiration" and she knew surviving as a writer here would not have been sustainable at that time. However she did eventually move back to Singapore and began her venture into the publication scene.
Although Tan's works in fiction have brought her accolades, that genre of writing is on halt for now.
"I was feeling very miserable because I was so lonely all the time," she says. But there's still another book lurking within her.
"I still dream of writing a novel," she says, "But I think I'll probably do a memoir first, then a novel."