Samsung KidsTime Authors' Award
The Samsung KidsTime Authors' Award (SKTAA) is a joint initiative between the National Book Development Council of Singapore (NBDCS) and Samsung Electronics. This award seeks to turn both published and unpublished picture books from ASEAN into digital apps for the Samsung KidsTime platform, so that local and regional content in its native language can reach a much wider audience.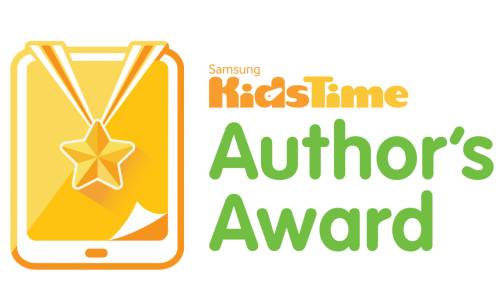 This award is supported by Samsung with a generous USD 200,000 endowment, and will seek to give both published and unpublished authors the chance to see their works turned into mobile apps, as well as a SGD$2,000 cash prize.
The SKTAA is open to all authors of ASEAN nationality, and there will be up to two Grand Prize winners and eight Runners-Up per ASEAN nation, for a total of up to 100 winners!
UPDATE: Samsung Electronics and NBDCS are extending the deadline for SKTAA 2016 to Friday, 5 February, to give some authors and arists some time finish up their picture books.
Objectives:
To recognise excellent picture books in the ASEAN region in their native languages
To showcase the diversity of writing and illustrating talent within ASEAN on a mibile platform
To encourage and inspire more Asian-themed books and stories
For more information, please visit www.samsungkidstime.com/awards.php.
Winners
2016 Samsung KidsTime Authors' Award
Grand Prize Winners
Butter Don't Want to Sleep by Nguyen Hong Anh and Nguyen Thi To Uyen (Vietnam)
The Crying Trees by Mary Ann Ordinario and Yasmin S Ong (Philippines)
Dou Dou, the Little Imperial Chef by Linn Shekinah and Ong Sheng Hua (Singapore)
The Hyena and the Monster by Low Joo Hong (Singapore)
The Last Dream of the Old Oak Tree by Chooi Ling Keiong (Malaysia)
Lautkah Ini by Kusumadewi Yuliani and Anna Triana (Indonesia)
Look for the Star by Grace Chong and Beth Parrocha-Doctolero (Philippines)
The New King of Fruits by Pg Khamarul Zaman bin Pg Haji Tajuddin (Brunei)
Nguoi Ban Tuyet Voi by Ta Lan Hanh (Vietnam)
Sang Kancil and the Snail by Rahimidin Zahari and Jaafar Taib (Malaysia)
Wuusss... Angin Membawa Telur Terbang by Angi Siti Anggari and Gina (Indonesia)
Second Prize Winners
The Adventures of Squirky the Alien Book 4 by Melanie Lee and Dave Liew (Singapore)
Bua Tiec Cua Vua Meo by Quang Phuc and Vu Tuong (Vietnam)
Cai Gi Tren Tuong The? by Le Thi Bich Khoa (Vietnam)
The Castle Library by Nurul Hayati binti Bestho and Evi Shelvia (Malaysia)
The Crazy Firefly by Mohammad Faiz bin Haji Morshidi (Brunei)
DIOLA - Heroine of the Philippine Eagles by Mary Ann Ordinario and Yasmin S Ong (Philippines)
The Fellowship of the Pinisi by Ary Nilandari and Dewi Tri Kusumah (Indonesia)
Ke Mana Owly Pergi? by Mohd Khairul Azman bin Ismail (Malaysia)
Keong Emas by Teoh Choon Ean (Malaysia)
Ketika Gilang Ingin Seperti Kak Sita by Aniek Qoriah Sriwijaya and Melani Setyowati Santoso (Indonesia)
Ki Nghi Dang Nho by Linh Vuong (Vietnam)
Kue Ulang Tahun Widi by Caecilia Krismariana Widyaningsih and Adrinalia (Indonesia)
Legendary Princess of Malaysia by Raman Krishnan and Emila Yusof (Malaysia)
The Little Seed by Mary Ann Ordinario and Frances Marie Alcaraz (Philippines)
Lost in the Gardens by Low Joo Hong (Singapore)
Mantel Emas by Aaron Randy Manda and Evi Indriani (Indonesia)
Maxilla by Lianne Ong and Lim Shing Ee (Singapore)
The Missing Mouse by Melissa Viswani and Darel Seow (Singapore)
My Mother's Garden by Emila Yusof (Malaysia)
My Mother's Kitchen by Emila Yusof (Malaysia)
Nhung Ngon Tay Khong Vang Loi by Ly Minh Phuc (Vietnam)
Old is Gold by Teoh Choon Ean (Malaysia)
Qua Trung Nay La Cua Ai? by Nguyen Phuong Thao (Vietnam)
Ranger Anne and the Proud Flamingos by Anita Sebastian and Eliz Ong (Singapore)
Sampan by Chua Hui Ying (Singapore)
The Smelly Fruit by Mary Ann Ordinario and Rolando Nolasto Royong II (Philippines)
Suatu Hari di Museum Seni by Evelyn Ghozalli (Indonesia)
A Thief in the Night by Low Joo Hong (Singapore)
Under the Sea by Nor Azhar bin Ishak (Malaysia)
Waktunya Cepuk Terbang by Debby Lukito Goeyardi and Jackson (Indonesia)
War Makes Me Sad! by Mary Ann Ordinario and Rolando Nolasto Royong II (Philippines)
What Sallamah Didn't Know by Sharon Ismail (Singapore)
Why is the Pig's Nose Flat? by Mary Ann Ordinario and Beth Parrocha (Philippines)
2015 Samsung KidsTime Authors' Award
Grand Prize Winners
Anong Gupit Natin Ngayon by Russell Molina and Hubert B Fucio (Philippines)
Haluhalo Espesyal by Jill Arwen Posadas and Yvette Fernandez (Philippines)
The Mango Tree by Hidayah Amin and Idris Ali (Singapore)
Misteri di Pasar Terapung by Eva Y Nukman and Ella Elviana (Indonesia)
Sun and Moon by Le Thi Bich Khoa (Vietnam)
Trai Tim Cua Me by Pham Thi Hoai Anh and Dau Thi Ngoc Vinh (Vietnam)
Second Prize Winners
38 Blessings by U Pe Thein (Myanmar)
The Adventures of Mooty Bundled Set by Jessie Wee (Singapore)
Alat Musik Paling Hebat by Eva Y Nukman and Ari Sigit (Indonesia)
Amazing Tanida and Grandma Preat by Catherine Songphatanayothin (Thailand)
Apuy's Fury by Liwliwa Malabed and Ramil Vinarao (Philippines)
The Curry Puff War of Kampung Asam by Lim Lay Har and Lim Lay Koon (Malaysia)
Diego and Marie by Robert Magnuson (Philippines)
The Drum Seller and the Demons by Nguyen Thanh Huong and Vu Xuan Hoan (Vietnam)
The Forest Fable by Gelyn Ong (Singapore)
Go to Sleep, Kuting by Robert Magnuson (Philippines)
Green's Green Day by Phan Thu Thuy (Vietnam)
Jangan Sedih, Bujang! by Sofie Dewayani and Dina Riyanti (Indonesia)
The Legend of the Goddess of Mercy by Nguyen Cong Hoan and Le Thanh Nga (Vietnam)
Let's Play With Grandma by Nur Assyikin, Nurulfizah, and Levene Wong (Singapore)
Lion's Tooth by Wang Chu Qiao and Clara Patricia (Singapore and Indonesia)
Little Goat Made a Mooncake by Phung Nguyen Quan and Huynh Thi Kim Lie (Vietnam)
No Lipstick for Mother by Grace Chong, Kora Dandan-Albano, and Letty Paler (Philippines)
Peter and Ahmed by Jojie Wong, Kora Dandan-Albano, and Letty Paler (Philippines)
Pewarna Langit by Eva Y Nukman and Evi Shelvia (Indonesia)
Playtime With Ye Ye by Pauline Loh and Haw Shing Yee (Singapore)
Purple by Wang Chu Qiao and Cai Lixian (Singapore)
Ryan the Playground Expert by Pauline Loh and Ong Sheng Hwa (Singapore)
Sandoseng Kuya by Russel Molina and Hubert B Fucio (Philippines)
Soaring Saturdays by Sophia Lee and Chay Lazaro (Philippines)
Stacey Goes to the National Museum and Stacey Goes to the Peranakan Museum by Lianne Ong and James Tan (Singapore)
SweZin's Dance by Than Lwin Myint (Myanmar)
Taman Bermain Dalam Lemari by Sofie Dewayani and Evelyn Ghozalli (Indonesia)
Where is My Home? by Nur-el-Hudaa Jaffar and Lim Leei Leei (Singapore)
The White Shoes by Grace Chong, Sergio Bumatay III, and Luis P Gatmaitan (Philippines)
The Window by Ta Huy Long (Vietnam)
You Know What I Mean by Ary Nilandari and Hutami Dwijayanti (Indonesia)